Education With an Impact
Dream It, Do It
How do you create the next generation of urban leaders and innovators? By providing an educational experience that feeds student passions and curiosities, empowers their ideas, and gives them the skills and knowledge they need to have a real impact on the world. For more than 20 years, the Community, Environment & Planning (CEP) program has been providing one of the most innovative educational experiences at the UW. Grounded in a commitment to community and hands-on learning, our students learn to collaborate, communicate, innovate, and problem solve – exactly the skills that our increasingly complex world needs.
Building Place Through Practice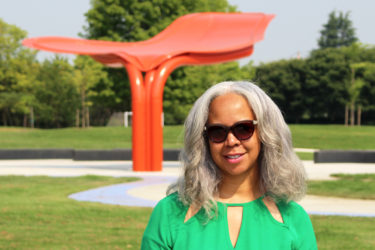 Creating change requires leadership, vision, hard work, and passion. Maisha Barnett (CEP '18) displays all of these traits as the project manager for Seattle's new Jimi Hendrix Park. Maisha is the force behind the park. She helped shape it from idea to completion and is developing programming that will make the park a new neighborhood hub.
"The park can be used for performances by local musicians and as a beacon for tourists to connect with a space that defines its namesake. I hope that the people who live in the neighborhood use the space, and that it becomes a hub for inspiration, gatherings, and community activities. Here, Jimi is a great symbol of unity and diversity." Maisha Barnett, Community, Environment & Planning '18
A commitment to community; a celebration of unity; a point of pride that connects our past to our future – this is education with an impact.
Global Influence, Local Impact
Whether it's taking classes in another discipline or traveling to the other side of the world, in CEP, crossing borders to discover new ideas is what we do. For Cole Laush (CEP '17), a committed cyclist and transportation innovator, learning about the latest transportation solutions from some of the most innovative transportation agencies in the world was made possible by a three-nation study abroad tour offered by CEP.
For his capstone project, Cole took what he learned abroad and developed it into Cycle Pack, the UW's first "bicycle library." Cycle Pack fills an important transportation gap by offering a low cost long-term bicycle rental service and training to all UW students. With support from CEP, Cole is following his own path and is transforming how our community gets around.
Putting Passion into Action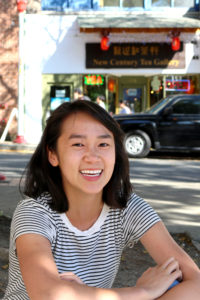 CEP's student-centered approach to education means that every learning experience is unique. An Huynh (CEP '15) discovered her passion for refugee and migration issues while studying abroad in Jordan. In CEP, she combined this passion with her interest in urban design and planning and produced a capstone project called "Emergency Urbanism: Designing Refugee Camps in Jordan." Since graduating, An has continued to support immigrant and refugee communities. She now works with the Seattle Chinatown International District Preservation and Development Authority (SCIDpda), where she facilitates community design processes for cultural preservation and community identity projects in one of the most diverse communities in Seattle. For An, being a CEP graduate means being a leader, a worker, an entrepreneur, and a lifelong do-gooder helping to create a better world for all people.
Help Us Do Even More
Each year, we graduate a new generation of passionate students, prepared to contribute to the change we seek. But the cost of this education continues to rise. Help us ensure that all of our students have access to the full range of opportunities provided by the UW and CEP by making a financial commitment to the Community, Environment, and Planning program.
Two Ways to Help
Make a gift to the CEP Community Support Fund. This fund provides three kinds of immediate support: need-based scholarships, which help with student fees and educational costs; opportunity grants, which provide small-scale seed grants to support independent student research and projects; and community building funds, which underwrite initiatives benefiting the CEP community as a whole. Resources from the CEP Community Support Fund support the entrepreneurial spirit of the major, ensuring that our students can continue to experiment, innovate, and follow their passions wherever they may lead.
Help us secure the long-term support of students in the CEP program by contributing to the Action and Impact Endowed Scholarship in CEP. Our goal is to build a permanent financial foundation for the program. By supporting the Action and Impact Endowed Scholarship, you will help ensure that CEP continues to provide a unique educational experience that remains at the forefront of innovative, impactful student learning. You have the ability to change students' lives and, through them, change the world.
JOIN US BY MAKING A GIFT TODAY
Contact Us
For more information, please call our Advancement Office at (206) 685-3751
or email udpinfo@uw.edu.