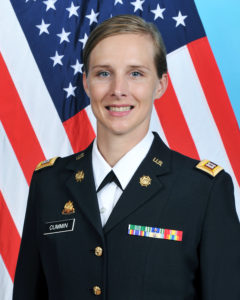 U.S. Army Captain Alyssa Cummin will soon complete her Master's in Infrastructure Planning and Management degree. Just over two years ago Alyssa started her academic journey at UW. When she discovered the online MIPM program she thought, "This is a great opportunity and I want to get my master's degree in an area that interests me instead of a standard MBA."
Balancing Military Service and School
Most MIPM students work regular 9 to 5 desk jobs while attending online courses in an asynchronous format. For Alyssa however, she has served her country overseas as a Captain in the US Army Reserves. She planned logistical training for African militaries in Nigeria, Somalia, Djibouti, Tunisia, Morocco, and Malawi. Twenty-eight months and many countries later, Alyssa is graduating with both rich academic and practical experience in critical infrastructure management. "The hardest part of this degree was identifying my capstone project," Alyssa explained. Ultimately, Alyssa selected the logistics infrastructure of Africa as her topic.
For Alyssa, managing her time during the degree program while also working was essential. "I adopted new habits, Alyssa shared. "I know I work best in the mornings so I started waking up earlier than usual to complete homework prior to leaving for work and I took advantage of my lunch breaks to squeeze in homework time."
Achieving Goals
Alyssa also volunteered as a high school swim coach over the past two years and enjoys training for triathlons. During this past year Alyssa completed her first Iron Man triathlon, finishing 3800 meter swim, 112 mile bike ride and a full marathon in 13 hours and 28 minutes. When asked how she was able to successfully complete the program despite all the deployments, travel for work, and physical training she said "I was surprised myself when I realized how much time there actually is in a day when we want to make the time to achieve our goals."
Article researched by Morgan A. Zantua.
Honoring Our Veteran Students
On Monday, November 11, we will be observing Veteran's Day. We will honor the students, alumni, faculty, and staff in our department that have served in the military. Join us in thanking these individuals for their service, and for their continued dedication to bettering our communities and cities through planning and design.