Mission
The Department of Urban Design and Planning's Equity, Diversity and Inclusion (EDI) Committee  consists of faculty, students, alumni, staff and Professionals Council members who are committed to acknowledging and serving the needs of our students. The EDI Committee works to create a stronger and more inclusive community by focusing on initiatives and events that recognize, engage, and benefit students across our Department's many types of diversity, including (but not limited to): race, ethnicity, age, nationality, sexual orientation, gender identity, religion, educational background, veteran status, and (dis)ability.
UDP Diversity Plan
The UDP Diversity Plan was written and developed by the UDP EDI Committee, and is a living document intended to guide changes and create an opening to ensure that diversity, equity, and inclusion are woven into the fabric of our department.
UDP Diversity Plan One Page Summary
What We Do
The Equity, Diversity and Inclusion Committee implements the UDP Diversity Plan and works to advance the Department's goals of equity, diversity, and inclusion.
The committee also hosts book and article discussions, coordinates speakers, identifies
trainings and seminars, promotes social gatherings, and more.
The EDI Committee meets every two weeks in Autumn, Winter, and Spring
quarters, and in certain cases, during summer quarter.
Any student, staff, or faculty who are not on the EDI Committee are welcome to attend the meetings on a drop-in basis. For the meeting schedule, please contact
udp@uw.edu.
The EDI Committee seeks representation from students, staff, and faculty across all of the departmental programs including the CEP undergraduate major, MUP program, MIPM online program, PhD program; as well as members of the UDP Professionals Council.
New members are welcome – students/faculty/staff have the option to sign up as a core member (someone who can attend the majority of meetings and contribute to projects) as well as a general member (someone who wants to attend as their interest/time allows). UDP community members may also elect to be part of the UDP EDI Committee email list.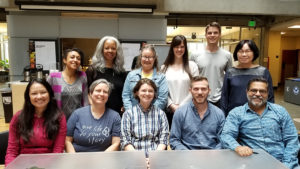 Faculty, staff, students, alumni, and Professionals Council members in the Department of Urban Design and Planning are welcome to join the EDI Committee. Here are ways to get involved:
Become a standing member – standing members attend the majority of meetings and actively participate in work groups
Become a contributing member – contributing members may participate in special projects or work groups, or attend meetings periodically
Join the email list – anyone can sign up to the email list to receive meeting announcements and be part of email discussions
Drop-ins welcome – dropping in on EDI Committee meetings is welcomed.
Diversity at the University of Washington
Contact Us
If you have questions, suggestions or concerns, you may email Prof. Branden Born (bborn@uw.edu) or Prof. Manish Chalana (chalana@uw.edu).