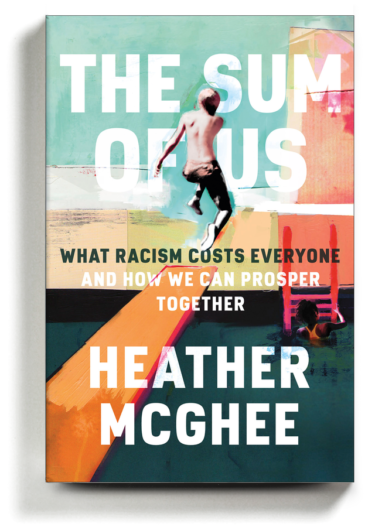 Sign up for Book Discussions
We would love to have everyone in the college join discussion on the book this winter quarter. This may also include discussions on EDI focused articles based on what people are interested in discussing. Please sign up to find out when they will be here.
Book Club Sign up
EMail list serv for book discussion info
About the Book
For the year of 2021-2022, the Department of Urban Design & Planning is continuing the Common Book practice after positive feedback for last year's book, How to Be an Antiracist by author and historian Ibram X. Kendi. Kendi's text helped students, faculty, and staff begin a reinvigorated discussion on the ways in which racism permeates society at all levels, from the individual to the structural. We expect this year's Common Book to further our collective understanding and emancipation from racism's destructive consequences.
This year, we will be reading The Sum of Us: What Racism Costs Everyone and How We Can Prosper Together by Heather McGhee, another New York Times bestseller. McGhee is an expert in economic and social policy and the former president of the inequality-focused think tank Demos. She now chairs the board of Color of Change, the nation's largest online racial justice organization.
Find a Copy
UW Libraries
Seattle Public Library
Penguin Random House
The central message of the book is that racism hurts everyone in the country, not just people of color. When 'the public' meant only White Americans, public institutions held strong support and delivered quality public goods, including housing, public pools, and public schools. As 'the public' increasingly included more people of color, however, White Americans began rejecting the public institutions that propelled so many of them to the middle class—to their achievement of the American Dream. As a result, public goods deteriorated for everyone; although people of color were disproportionately affected, White Americans were still the largest group to suffer the consequences. In effect, White Americans were so averse to sharing public goods with Americans of color that they rejected 'the public' wholesale, even though they were the largest group to gain from investment in the public realm.
McGhee's framing of the perils of racism invites people who may otherwise dismiss them, and thus promises wider support for anti-racist thought and action. We hope you will join us in reading this hopeful book that makes the case for everyone to resist racism, for their own sake if not for racial justice. In an intentionally divided country, perhaps that is the most we can hope for.
More Resources:
Don't have time to read the whole book but would still like to join the discussions? See below for more resources about the author
Check out Heather McGhee's Ted Talk: Racism Has a Cost for everyone