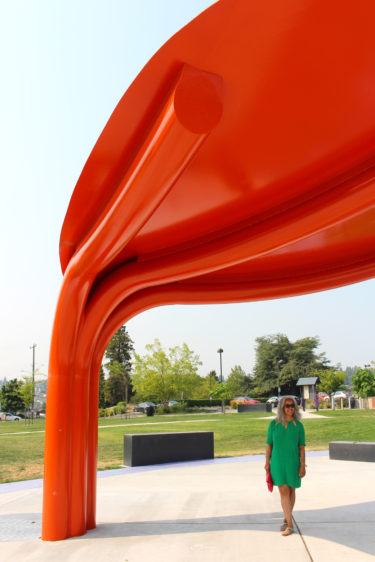 Creating change requires leadership, vision, hard work, and passion.
Maisha Barnett, a senior in the Community, Environment, and Planning (CEP) program, displays all of these traits as the project manager at the Jimi Hendrix Park Foundation for Seattle's new Jimi Hendrix Park. The 2.5-acre park is located in Seattle's Central District, a thriving multicultural community where Seattle-born, rock icon Jimi Hendrix grew up. Maisha is the force behind the park. She helped shape it from idea to completion and is developing programming that will make the park a new neighborhood hub.
In her role as project manager, Maisha has overseen the entire development of the park. Though she joined CEP in 2016, she has been working on the park since 2011. To start, Maisha was recruited to join the community volunteer group Friends of Jimi Hendrix Park, who brought in Murase Associates as the landscape architects to design the park. From there, Murase conducted three public engagement meetings to gather ideas from the community about what they wanted to see in the park. They narrowed down these ideas to form concepts that would inform the park's design. The ideas that arose from these meetings are represented in the park today in the landscape's eye-catching, abstract design as both a guitar and a spiraling flower. Every element of the design was informed by the community as an homage to Jimi Hendrix, from the purple walkways to the butterfly garden. Once the design was developed, the team was able to proceed with the park's development.
"I had managed the development of a park before for Powell Barnett Park, but this was different from my first experience. I knew it would be a challenge in a few respects. I was working with a committee, rather than on my own. There was also a bigger budget, more stakeholders involved, and it took us a little longer to reach our goal. Through all of this, I've found that we can't just do it ourselves. I am constantly reminded of the benefits of community involvement."
Through this process, Maisha has done everything from planning and facilitating public meetings, to fundraising and event planning, and is now working on programming. The park's largest event to date was its grand opening on June 17th, 2017. This day welcomed over 250 people to the park with a ribbon cutting ceremony led by Jimi Hendrix's sister, Janie Hendrix, live concerts, an instrument petting zoo, and more. In the few short months since then, Maisha has already seen her work pay off. "Although I predicted and willed that this would be a destination park – it truly already is," she commented. "The park can be used for performances by local musicians and as a beacon for tourists to connect with a space that defines its namesake. I hope that the people who live in the neighborhood use the space, and that it becomes a hub for inspiration, gatherings, and community activities. Here, Jimi is a great symbol of unity and diversity." Looking ahead to programming for next year, Maisha is working to help this park become a cultural destination for the region.
Knowing that the Central District will completely transform in the next 10 years, she looks to the future, "I hope that unlike other areas of the city that have experienced gentrification, like losing the whole character of their neighborhood, I hope that the spirit stays in the space. The thing I fear the most about all of the new development happening in the area is that people will be priced out and displaced, and that we'll lose businesses that have been here for a very long time. I hope this will still be a vibrant community, and that the people who live here won't be an afterthought. With additional people and more useful services in the area, it could have a really bright future."
A commitment to community; a celebration of unity; a point of pride that connects our past to our future – this is education with an impact.
Read more about the park's grand opening: