Jamilah Williams, Assistant Director for Marketing & Communications sat down with Master of Infrastructure Planning & Management (MIPM) graduate, Mike Stevenson, to hear about how the MIPM program has helped his career aspirations.
Tell me a bit about your background.
M: I have a Bachelor of Science in electrical engineering from the University of Colorado and I recently joined the Department of Energy (DOE), Office of Indian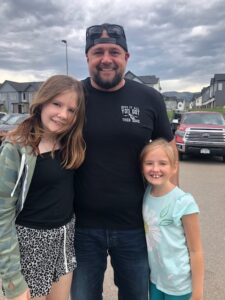 Energy at the National Renewable Energy Lab in Golden, CO. Before joining the DOE I was with the Department of the Interior (DOI) for about six and a half years, almost five of those as a federal employee. My role there was working with federally recognized American Indian tribes. Through grant programs, I helped tribes assess their resources for new energy development. We did both conventional and renewable energy, but I was heavily involved with the renewable energy
group. I also worked on another grant program that helps tribes build their capacity to manage energy projects. Primarily, I helped tribes assess the resources to potentially develop micro grid projects and also helped them assess their potential for forming tribal utility authorities and taking over all of the energy services within their reservation.
Through the results of these grant programs, we estimate that tribes are paying anywhere from $1 to $3 billion a year on energy, with a lot of that going to third-party energy providers that may or may not have the tribe's best interest in mind. Tribes have a real opportunity to exercise their sovereignty and take over those energy services on their land.
When I was with the Bureau of Indian Affairs with the DOI, it was front-end feasibility work. The Masters in Infrastructure Planning and Management (MIPM) degree I'm receiving from UW helped me get the new position with the DOE Office of Indian Energy, where I will help work on grants that build out energy infrastructure for tribes, helping them to lower the cost of energy on their reservations.  What I've learned in this degree program is going to enhance my skills and abilities with the DOE to be able to get funding to the tribes and be able to have an impact by helping build these renewable energy systems.
How did you get into this work?
M: Through a job fair actually. I didn't have any experience working with tribes until I found the Bureau of Indian Affairs office at a Colorado University job fair. I was working the night shift as a can-line specialist for Miller Coors and went to a job fair randomly. It's been a dream come true

What do you enjoy about this work?
M: I feel like I'm able to have a very small part in enacting real change in people's lives. Many of the people that I've had the pleasure of visiting and working with spend half or more of their income heating and electrifying their homes. We're dealing with challenging problems, but reducing this burden for people makes it really rewarding work.
How did you decide you wanted to do the MIPM program?
M: The MIPM program is the third graduate program that I've started, and the first one that I will have completed. This program felt out of my comfort zone. I have an electrical engineering undergraduate degree. I recognized that the planning component was where I was short on skills and abilities. I liked the challenge of it all. When I found it online, I was immediately drawn to it and thought that it would serve me, because at that point, long term I really wanted to develop energy projects in Alaska. There's such a need because there are so many isolated communities with very few interconnections and having that basis to help build out electrical infrastructure, I thought was something I was missing in my skill sets.
I started at Denver University for a project management masters, but felt I already knew a lot of what was being taught. Then I tried an energy and sustainability program that was much the same way and then when I saw the University of Washington program, it seemed like the only program of its kind. I thought it was something that would be great education for my career aspirations moving forward.
What did you like most about the MIPM program?
M: I liked the approachability of the instructors and the understanding nature of the instructors. I'm working full time and I have elementary school age kids that as a single parent trying to navigate COVID and school, there were times when there simply wasn't enough time in the day to get everything done. The instructors were very supportive of my situation and were committed to working with me to ensure that I was successful in this program. I am forever grateful for their flexibility and dedication.
I also liked the diversity of the program material, everything from energy systems to water systems to emergency management. I thought it set a very good foundation and covered a broad range of interests for people that are looking to hone their skills. I appreciated the fact that it covered so many different areas.
Have there been any changes at the Department of the Interior with the appointment of Secretary Deb Haaland?
M: It's very long overdue to have an Indigenous person in that position when such a major component of the federal trust responsibility of the Department of the Interior is maintaining government to government relationships with tribes. I do think that there's going to be more money for renewable energy projects and my expectation is that it's going to benefit more tribes.
How has this program helped you switch careers?
M: The support of the advisors and also my capstone played a large part in this. My capstone focuses on how tribes in northern California can develop micro grids to add resilience for the public safety power shut off events. It ties into the tribe's sovereign ability to develop their own policies and regulations to bypass some of the legislation in California that makes development difficult. If I get this capstone right, it could be something to use as a roadmap for tribes to develop some resilient systems. The basis for a lot of the classes I was in helped set the foundation for some of the programs and models I'm using in the capstone. This will probably be the biggest achievement I have in the degree program and something that hopefully will make a meaningful impact.
Did you have any mentors in the program that were influential or outside of the MIPM program?
M: There's a lot of remarkable people completing this program and we all have vastly different life experiences. The instructors are amazing too. I don't know that there's any one single person that's inspired me more than the others, but collectively, the group as a whole is an impressive group of people.
Do you enjoy working for the public service sector or could you see yourself moving back to the private sector?
M: Wherever I feel like I can make the biggest impact is where I'll be and I hope it's with the Department of Energy for a long time.
What's next for you?
M: I'm just excited for the opportunity to use what I've learned in this degree in my new position to be able to better manage the grants I'm associated with and ensure that taxpayer dollars are utilized effectively and hopefully to make a real, impactful difference in people's lives and lessen the burden they face to heat and electrify their homes. I'm looking forward to the opportunity to grow and develop and be out of my comfort zone.